Just a few more, and then the next post will be from Ambam, because she's only had one post and she's sulking!
This was a lovely sunset... unless you were the owner of the landrover... don't worry though, everyone helped him get his car free when he turned up!
And here's just a pretty, if overcast, photo of the beach we went to every day:
Tongue!
On ice cream patrol you have to work with your partner to cover all areas- if you're not hyper vigilant you could miss the opportunity to snaffle some ice cream! We had just come back from the witchcraft museum- Mummie didn't take pictures of the display because that wasn't allowed, but pictures of hounds is ok, right? It was a very interesting place for humans because Mummie and Daddie took forever looking at everything and going 'Ooooh, really? That's interesting'... I can tell you now that it does not hold the same thrall for hounds.
Are we done yet?
Ambam wasn't a big fan of it either, so Mummie gave her the special bandana covered with calming spray and that helped a bit.
I can see the exit sign... let's head towards that, yeah?
And finally the prettiest place we went to! These were taken from the top of the cliff, at Tintagel. There was a rainbow as well but Daddies phone camera didn't seem to capture it. It was lovely anyway! Me and Ambam were sniffing the air with our ears flapping in the breeze. Mummie said we looked serene.
It was so pretty! I wanted to run everywhere but Mummie and Daddie said 'No!' because apparently cliffs are dangerous. Pffffft, my middle name is danger! ...oh, no, wait, my middle name is dinner, sorry. Dinner, not Danger.
And lastly- on a rest stop on the drive home my Mummie met a Glen of Imaal Terrier! They're very rare! But Mummie forgot to get a photo, silly woman!
Here's a google search photo of one, (by Petra Wegner)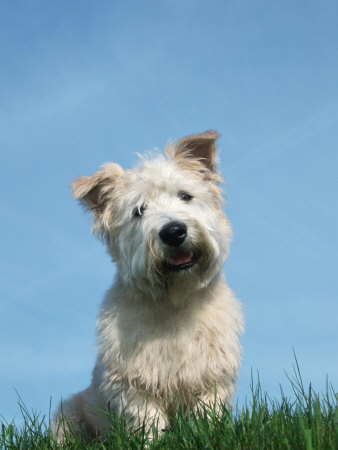 For more information about Glens, this is an awesome site!
Also here's a link to the witchcraft museum-
http://www.museumofwitchcraft.com/
And of Polzeath where we stayed-
http://www.polzeath.co.uk/
And Bodmin Jail-
http://www.bodminjail.org/
And Tintagel Castle-
http://www.english-heritage.org.uk/daysout/properties/tintagel-castle/
Ok, that's all the holiday stuff! It was so exciting! I give holidays the houndly seal of approval!